Our Skeleton Illustration Featured in "How it Works Magazine"
24 May, 2016 / 0 Comments / Illustrations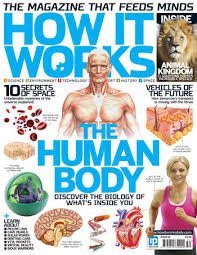 Learning anatomy and how our body works is very much on today's educational agenda and always a really popular subject, especially amongst teachers and students. And we know why, because it's a fascinating subject!
We produce anatomy drawings that help educate and enlighten the body parts we can't see, and we do this by visualising the hidden anatomy under the skin. So we were keen to contribute to the 'How It Works Magazine', published by Imagine Publishing. Who chose to feature our skeleton illustration in their special report all about the skeletal system.
The feature covered every aspect on the skeleton system; from the size, shape and function of different bones to how they are linked together to create joints.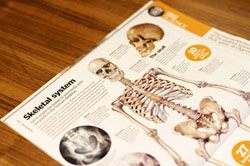 In the magazine, our skeleton anatomy illustration filled the page across a double A4 spread. However, its true size is a massive 1.3 metres high and we have made it available to buy as a ready made, fully labelled poster… perfect for schools and colleges where pupils can get really up close and see the unique anatomy and scale of each bone. Drawn by a professional medical artist over many months, you can be confident of its anatomical accuracy.
Learn more about the How It Works magazine, which aims to educate and enlighten the knowledge-hungry. A bible of science, technology, transport, space and history, created by science and technology experts. How It Works will transform your brain in minutes with heaps of weird and wonderful facts and stats.