Skeleton Anatomy Posters
Skeleton Anatomy Posters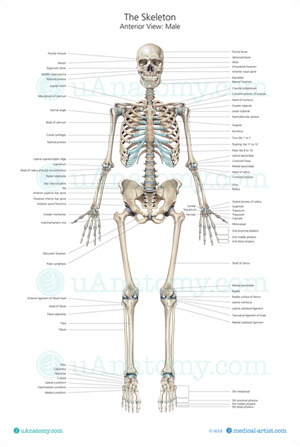 Our human skeleton anatomy chart shows all of the major bones of the human body with stunning clarity and in a modern illustrative style that is appealing to a wide variety of audiences. Clearly labelled through out, but without cluttering the anatomy itself this is an ideal anatomy poster for classrooms to treatment rooms. Printed at a huge size of – 1300mm x 860mm (51 inches by 34 inches) on 300gsm high quality paper it is designed to look great and last.
What Makes Our Human Skeleton Anatomy Posters Different?
What is the point in buying a poster that is so small that you struggle to see the detail and read the labels? We decided to make our anatomy posters big, really big. If you were a child you could call them 'life-size anatomy posters'! They are actually around two thirds life size. The print size of the human skeleton chart is 1300mm x 860mm. That means these posters are about EIGHTEEN times bigger than a sheet of A4 paper!
Clarity of Anatomy
Our images are created digitally, by hand using a Wacom tablet, in a process that takes weeks. The result is excellent clarity in all of the anatomy shown so people looking at your poster see what they need to see. We have also labelled the major anatomy, over 100 different parts on the full body images, but have deliberately not cluttered the illustration itself. This means that you can see, understand and learn what you need easily.
Buying a Human Skeleton Anatomy Poster
Buying a copy of our huge human anatomy skeleton poster couldn't be simpler. We are currently doing a promotion where the posters are £5 off normal price. And you can save even more and buy both the skeleton and muscle anatomy posters saving you £20 off the normal combined price. If you need different sizes send us details by contacting us here.
Posters are currently sold out!
Please email joanna@medical-artist.com for notification as to when posters will be available again.

Here's what some of our customers are saying:
"The posters from uAnatomy were a fantastic tool for our Personal Trainers to refer to when training clients. The posters are large enough to be a centre piece for our gym wall and a real focus point for our members to learn what muscle groups they can work to get definition and tone in different areas, the posters really helped bring the exercises to life. All of our members and Personal Trainers found them very educational and enjoy having something so detailed to refer to."
Dave Webb, General Manager, Godalming Leisure Centre.
"These posters are so beautifully drawn that they attract students to them. They are helpful in stimulating discussion and launching both KS4 and KS5 lessons about human morphology and physiology. There is currently strong emphasis on exercise and fitness in our syllabus, so these posters are a welcome addition to our resources.
Every year we have gifted artists that also study biology and they are particularly interested in this use of artistic talent."
Jane Price, Head of Biology, Newent Community School, Gloucestershire
"Thank you for the posters, they arrived this week. They are on the wall of the science lab already, and the children love them and engaging with them already!"
Helen Fox, Teaching Assistant, Woolmerhill School, Surrey