Anatomy Posters for Schools
Anatomy Posters for Schools and Classrooms
Anatomy Posters available to buy in sizes ranging from A3 to almost life size! We have done our research and the older style anatomical charts or posters can look out of place in modern settings and onlookers can find their cluttered nature of labelling un-educational and difficult to read due to the limited sizes they are printed at.
Our modern look and feel anatomically precise anatomy charts or posters, however, aim to be clear and easy to read, informative and engaging. To achieve this we have created the skeleton anatomy anterior view and muscle superficial anatomy anterior view in meticulous detail, beautifully illustrated by only qualified medical artists. With each muscle clearly defined, with each skeleton bone that looks lifelike, the anatomy charts or anatomy posters serve to educate and engage students, teachers and health educators all over the world.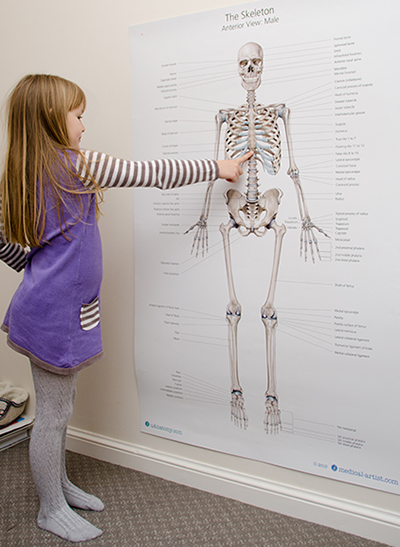 The anatomy charts are large enough that they are 'life size' for younger school children, and the charts are looked at in wonder as children compare themselves to the skeleton, or are helped to understand  what muscles they have lying just underneath their skin! These posters of the skeleton and the superficial muscle layer are a fascinating way to start to learn human anatomy learn and we have made it fun with our colourful, bright and clearly labelled anatomy charts that are ready to decorate any wall.
With our anatomy charts or posters created by medical artists that have been trained in anatomy,  our anatomically detailed posters of the full anterior skeleton and separate but perfectly matching superficial muscle dissection on the skeleton, do not look out of place in any high-tech clinical settings or in school labs and patient waiting areas.  To buy now contact us here at Uanatomy.com.
Here's what our customers are saying about our posters.
"These posters are so beautifully drawn that they attract students to them. They are helpful in stimulating discussion and launching both KS4 and KS5 lessons about human morphology and physiology. There is currently strong emphasis on exercise and fitness in our syllabus, so these posters are a welcome addition to our resources.
Every year we have gifted artists that also study biology and they are particularly interested in this use of artistic talent."
Jane Price, Head of Biology, Newent Community School, Gloucestershire
"Thank you for the posters, they arrived this week. They are on the wall of the science lab already, and the children love them and engaging with them already!"
Helen Fox, Teaching Assistant, Woolmerhill School, Surrey